The Taliban's takeover of Afghanistan is raising fears of a possible humanitarian crisis that could see huge numbers of people try to flee the country.
The Taliban has also promised to grant amnesty to ex-Afghan army soldiers, as well as contractors and translators who worked for international forces with the US-led coalition that invaded Afghanistan after the September 11, 2001 attacks.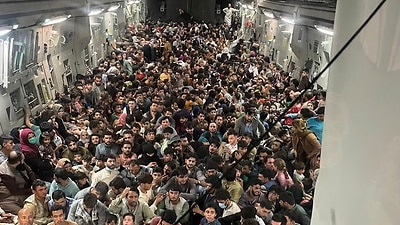 countries that offer refugees ,some have called for tougher borders
Turkey: The arrival of Afghan migrants on Turkey's eastern border has become a hot political topic in the country, with Erdoğan's political opponents pressing his government to take strong measures to stop the influx.
Iran: Any Afghans who crossed into Iran would, "once conditions improve, be repatriated", Hossein Ghassemi, interior ministry border affairs chief, told. Iran shares a 900-kilometre border with Afghanistan, and already hosts nearly 3.5 million Afghans, according to the UN's refugee agency.
United Kingdom: The UK on Tuesday announced plans to accept 20,000 Afghan refugees in the coming years as part of a new resettlement programme that will prioritise women, girls and religious and other minorities.
Switzerland: Switzerland said on Wednesday that it will not accept large groups of Afghan refugees arriving directly from the country, but instead will review asylum applications on a case-by-case basis.
Pakistan: In June, Prime Minister Imran Khan said Pakistan would seal its border with Afghanistan in the event the Taliban took control. Khan told the New York Times that Islamabad did not want another influx of refugees from its neighbour, as officials were struggling to cope with the estimated three million Afghan migrants already residing in Pakistan.